Electrophoresis is a laboratory technique used to separate DNA, RNA, or protein molecules based on their size and electrical charge. An electric current is used to move molecules to be separated through a gel. Pores in the gel work like a sieve, allowing smaller molecules to move faster than larger molecules. The conditions used during electrophoresis can be adjusted to separate molecules in a desired size range.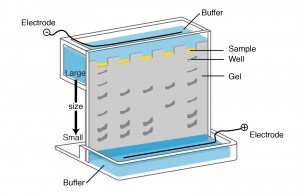 Researchers use electrophoresis system to separate molecules. Although it sounds complex, it is actually quite sample. There are variety electrophoresis systems in the market in China and aboard, bu they all have two basic parts: electrophoresis tank and its power supply. Our company provides full range models of electrophoresis-related products, from DNA electrophoresis to protein electrophoresis, from making gels, running gels to analyse gels. Different sizes of electrophoresis tanks are avaliable for making mini gels to large gels as your needs. Various models of power supply from low current application to high range current are available.

Electrophoresis tank
Liuyi's electrophoresis tank consists of main tank body, lid with power supply lead, buffer tank, gel tray and gel casting device. The gel casting device is assembled with the glass plate, combs, special wedge frames and casting stand as a gel room for running gels. We can offer the tanks for DNA sequencing, SDS-PAGE, Native PAGE, submarine electrophoresis, hemoglobin electrophoresis and blotting. The model DYCP series are used for identifying, separating and preparing DNA, as well as for measuring the molecular weight. The model DYCZ series fit for SDS-PAGE, Native PAGE etc., protein electrophoresis. Some of DYCZ and DYCP series are blotting systems.Our tanks with different sizes can make mini size gel like 83*83mm, and the large size as 250*250mm.

All tanks' body are transparent that are easy for observation. The power supply leads on lid are compatible with most major power supply.
Electrophoresis power supply
Liuyi's power supply fits for the electrophoresis experiments from low-current and low-power to high-current and high-power as your requirements.The microprocessor control allows the unit to be set-up to run in constant voltage or constant current modes.

We can provide European Standard plug, American Standard plug and British Standard plug to adapt your socket.
Liuyi brand has more than 50 years history in China and the company can provide stable and high-quality products all around the world.Through years' development, it is worthy of your choice!
For more information about us, please contact us by email [email protected].
---
Post time: Mar-25-2022